Stony Brook University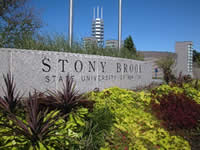 Ranked one of the best values in higher education by Kiplinger's magazine, State University of New York at Stony Brook, also known as Stony Brook University (SUNYSB, SBU) was founded in 1957 with around 100 students enrolled. Located 60 miles east of New York City, in the middle of Long island, the University is set on over 1,000 wooded acres. Today Stony Brook is one of the four university centers in the State University of New York (SUNY) system and has more than 23,000 students. With its rich history of scientific research and discovery, Stony Brook University offers numerous programs such as Physics, Mathematics, Geosciences and Nuclear Physics. Its philosophy department is considered one of the top programs in the nation. The university's current president is Shirley Strum Kenny (since 1994) and she's the first woman to hold that position. During that time she has chaired a nationwide commission on increasing the quality of undergraduate education, overseen the growth and development of the University and earned Stony Brook a role in the management of Brookhaven National Laboratories.
History
Stony Brook University was established in 1957 with the goal to educate secondary school teachers in mathematics and sciences. Originally located on Oyster Bay, Long Island, on land donated by philanthropist Ward Melville, the current campus was established in 1962. 1960s and 1970s were a period of rapid growth for the university under President John S. Toll. More buildings were constructed on campus, and more academic programs were added. In the 1990s numerous buildings were renovated, including the Student Activities Center. More recently, completed were Charles B. Wang Asian American Center and Kenneth P. LaValle Stadium. New apartments continue to be built.
Academics
Stony Brook University is divided into a number of schools which are: College of Arts and Sciences, College of Business, College of Engineering and Applied Sciences, School of Dental Medicine, School of Health Technology and Management, School of Journalism, School of Marine & Atmospheric Sciences, School of Medicine, School of Nursing, School of Professional Development and School of Social Welfare. The university offers 119 undergraduate degree programs, 102 master's programs, 32 graduate certificate programs, and 40 doctoral programs on the Stony Brook campus. Six different undergraduate colleges offer students a variety of majors and academic disciplines to choose from, including Arts, Culture, and Humanities; Global Studies; Human Development; Information and Technology Studies; Leadership and Service; and Science and Society.
Admissions
Total cost for on-campus attendance is $17,186. Admission success rate is 43%, with 2,799 students enrolled out of 25,163 applicants in 2008. The average SAT score was 1210/1600. The GPA for the freshman class of 2008 was 3.3-3.7/87-94. Retention for full-time students was 89%, and for part-time - 44%. Total enrollment is 23,994. Stony Brook University ranks 3472nd for the average student loan amount. Most popular fields of study are Liberal Arts and Sciences, Psychology and Health Professions.
Financial Aid
Stony Brook offers one of the best values in higher education. It provides a number of private scholarships in various disciplines, depending on a student's intended major as well as federal grants and loan programs available to students who demonstrate real need and who complete the FAFSA prior to application. The Office of Financial Aid and Scholarship Services helps students calculate the total cost of attendance, subtract the expected family contribution, based on income, number of children, etc., and determine a student's real financial need.
Campuses
The main campus in Stony Brook is split in three: West Campus, East Campus, and South Campus. The West Campus is the location of the original buildings at the Stony Brook site and it hosts most of the academic buildings and campus housing. The East Campus is home to the Stony Brook University Medical Center - the largest hospital in Suffolk County. The attached Health Sciences Center (HSC) and Basic Science Tower (BST) which houses numerous laboratories are also part of the East Campus. The smallest of the three is the South Campus, which houses the School of Dental Medicine, the Marine Sciences Research Center, and the Cody Center for Autism and Developmental Disabilities.
The Stony Brook Manhattan branch was established in 2002 and is located on the 2nd floor of 401 Park Avenue South. It offers professional and graduate courses targeted towards students in the city, as well as undergraduate courses during the summer and winter sessions. Stony Brook Southampton focuses on academic programs related to the environment and sustainability, including an undergraduate marine sciences program, and it was established on March 24, 2006 with the purchase of the 81 acre Southampton College. An enrollment of about 2,000 students is expected within the next five years. The new Research and Development Campus lies on 246 acres, adjacent to the Flowerfield property; this campus will house ten buildings, with the first building - the Center of Excellence in Wireless and Information Technology, completed in October 2008. Its second building - the Advanced Energy Research and Technology Center is expected to be completed by 2009.
Research Centers
The two main research centers Stony Brook University operates are the C. N. Yang Institute of Theoretical Physics (YITP) and the Marine Sciences Research Center (MSRC). The Marine Sciences Research Center is the State University of New York's center for marine and atmospheric research, education, and public service, with more than 200 graduate and undergraduate students currently working and studying there. Founded in 1967, C. N. Yang Institute of Theoretical Physics (YITP) is located on top of the Math Tower, home to the Department of Mathematics which is connected to the Department of Physics; the active research areas of the institute include Quantum Field Theory, String Theory, Mathematical Physics and Statistical Mechanics. Other research centers are the Institute for Mathematical Sciences, the Nuclear Theory Institute, the Center for Biotechnology, the Institute of Chemical Biology and Drug Discovery, among many others.
Stony Brook University also jointly operates Brookhaven National Labs under a contract from the Department of Energy, along with an elite group of universities including Berkeley, University of Chicago, Cornell, MIT, and Princeton University.
Dormitories
Campus dormitories are grouped into quads; each quad consists of three, four or five separate dorms, named after a New Yorker who has made an important contribution to their respective field in some way. Each dormitory is referred to as a college. Plans and construction for a six story, six hundred bed residential complex are scheduled for the 2010-2011 school year.
Libraries
Stony Brook's East and West Campus University Libraries offer nearly two million bound volumes and four million publications in microformat. The libraries provide hundreds of databases and state-of-the-art information services, serving students, faculty, and the surrounding community. The two main libraries are Frank Melville Jr. Memorial Library and
Health Sciences Center Library. Other libraries specializing in Chemistry, Music, Science and Engineering, Marine and Atmospheric Science, and Mathematics, Physics, and Astronomy are also available.
Medical Center
One of the top ranked institutions for scientific research and training, Stony Brook University Medical Center is Long Island's only academic medical center. It's a hospital, medical school and a research institution all in one. Formerly known as Stony Brook Hospital, the center began providing care in 1980. Every year the facility provides services to more than a half million Long Islanders, offering the latest advances in medicine. It also serves as an educational resource for students of the University's School of Medicine and the Health Sciences Schools, Nursing, Dental Medicine, Social Welfare, and the Health Technology and Management.
Athletics
Formerly known as the Patriots, Stony Brook University's 18 sports teams (9 men and 9 women) are currently called the Stony Brook Seawolves, representing the university in NCAA Division I athletics. The sports teams are: Baseball, Basketball (men), Basketball (women), Cross Country (men & women), Football, Lacrosse (men), Lacrosse (women), Soccer (men), Soccer (women), Softball, Swimming and Diving (men & women), Tennis (men & women), Track & Field (men & women), and Volleyball (women).
The basketball and volleyball teams play at the Sports Complex, while the football, soccer and lacrosse teams now play at Kenneth P. LaValle Stadium. A large number of fields, used by the baseball and softball teams, as well as track, tennis and other sports are located in the northern portion of West Campus.
The Stony Brook Sports Complex opened in 1990; its facilities include courts for basketball, volleyball, racquetball, squash, badminton, a running track, a dance studio, an exercise room, a weight room, lockers, and a pool. Its outdoor facilities include tennis courts, outdoor basketball courts, baseball, softball, and soccer fields, multipurpose fields for intramural competition, beach volleyball courts, and a new football/lacrosse stadium.
The official colors of the Seawolves are Scarlet Red and Grey. All varsity sports teams compete in the America East Athletic Conference, except for football which competes in the Big South Conference. The mascot Wolfie the Seawolf was adopted in 1994. Stony Brook's Alma Mater, Sandy Shore, was adopted in 1985 after a composition contest. The Athletic Department produces a weekly television news show called The Sports Report, and is available as a podcast.
Arts & Culture
The Stony Brook campus is very rich in its offerings in arts and culture. There are numerous museums and galleries on campus such as the University Art Gallery, Lawrence Alloway Memorial Gallery and Tabler Center Art Gallery; many of them regularly display the work of students and faculty. Frequently changing art displays are also available for viewing at the Stony Brook Union Gallery.
The Staller center for the Arts offers a wide variety of world class performances from September through May and hosts the Stony Brook Film Festival every July. Over 50 professional performances, as well as approximately 450 events generated by the departments of Art, Theater Arts and Music are part of the Staller Center season. The Charles B. Wang Center is dedicated to celebrating Asian and American cultures; it serves as a conference facility and presenting venue for various cultural, professional, and intellectual events.
The Arts Department is a sponsor to numerous free public lectures and seminars on art history and criticism. At the Museum of Long Island Natural Sciences visitors can enjoy displays of Long Island's natural history and rocks. The museum features a seismometer, programs and workshops, and an exhibit on the Long Island Pine Barrens. The Pollock-Krasner House and Study Center - the former studio of abstract expressionist artist Jackson Pollock, provides access to a large art reference library, a media collection, and documentary archives. Art classes are also offered.
Student Organizations
The Stony Brook campus is home to over 300 student clubs and organizations, including sports and recreation, media, ethnic, academic, honorary, service oriented, special interest and pre-professional organizations. At the beginning of each fall and spring semester the Department of Student Activities hosts a club and organization Involvement Fair which purpose is to provide students with the opportunity to meet club and organization members, and obtain information. 34 Fraternities and Sororities in the university provide an array of social activities for students. The Stony Brook Union Art Gallery offers visitors a taste of culture for students with art-related interests.
Recreation
A few recreational facilities on campus are available, including the Downtown Arcade, Indoor Sports Center and the Stony Brook Crafts Center, where participants can take classes in clay sculpture, weaving, kayaking, bartending, wine appreciation, basketry, drawing, painting and even defensive driving. There are studios for ceramics, photography and fiber arts. The campus is also home to a variety of shopping locations such as bookstores, a supermarket, and weekly farmer's market on campus. Thanks to the university, Stony Brook is constantly filled with concerts and performances at several venues like the Charles B. Wang Center and the Staller Center for the Arts, which hosts the Summer Film Festival, presenting new, independent, foreign, classic, art and popular films for entertainment. Another popular event is the Stony Brook Summer Music Festival - a two-week music program for talented musicians ages 13 to 23, focusing on chamber music.
Annual Events and Traditions
Every year Stony Brook University hosts the annual strawberry festival, which covers the campus in everything strawberry - from fine eats to ridiculous costumes. The Roth Pond Regatta is one of Stony Brook's most popular events where students can fashion their own boats and participate in the parade. A number of clubs and organizations celebrates Diversity Day and the various segments and lifestyles on campus.
Awards and Recognitions
Three Nobel Prizes were awarded to professors working at Stony Brook among many other awards and honors. In 1998 the University was given a National Science Foundation recognition award for its integration of research and education. In 2001 SBU became a member of the Association of American Universities (AAU), an invitation-only organization of the top 62 research universities in the United States. In July 2007 Stony Brook won a grant from the Department of Defense to devise ways to prevent terrorists from corrupting computers, and another from the Department of Homeland Security to design a system to detect radiation without triggering false alarms. In August, 2008 U.S. News & World Report ranked SBU 45th in the category of top public national universities and 96th in the U.S. News rating of best national universities, the only school in Long Island in the top 100. Also in 2008, out of over 8,300 universities Stony Brook was ranked as the 127th best university in the world, placing it in the top 1% by the London-based Times Higher Education Supplement.